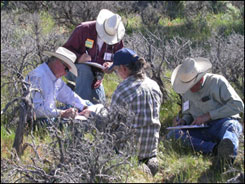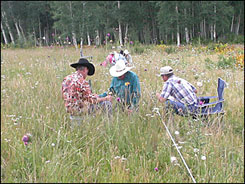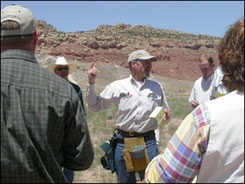 ---
Introduction to Land Monitoring
Number of Days: 1
Number of Participants: 10-12
Investment: $160/person
Prerequisite: None
This practical one-day workshop is designed for laypersons, ranchers or land managers seeking the building blocks of range ecology and grazing monitoring. Training covers the benefits of ecological monitoring and grass/grazing processes. Stimulating discussion and hands-on field exercises allow participants to determine rangeland production, proper stocking rates, scoring of grazing practices, and management options. Exercises using EZ-EKG field cards will give participants the skills to rate and document ecological health, function, and pasture condition at temporary short-term monitoring plots. This is a good foundational course for anyone interested or involved in land management and seeking monitoring skills to apply on many landscapes.
---
EKG Blink
Number of Days: 2
Number of Participants: 10-12
Investment: $500/person
Prerequisite: None
Participants will leave this NEW two-day course with well-practiced abilities in choosing monitoring sites, transect layout mechanics, and EKG photo procedures. This class is designed for any rancher or conservation manger seeking a rapid, repeatable monitoring program, right away. Participants will practice through land monitoring basics, soil surveys, grazing indexing, forage production methods, surface cover percents, and EZ-EKG assessments, but will spend the majority of time learning monitoring mechanics for EKG transect lines. Additional time will be spent on "situational monitoring" and site recording techniques including an introduction to EKG DataStore.
---
EKG Pro
Number of Days: 2
Number of Participants: 2-3
Investment: $500/person
Prerequisite: EKG Blink
This NEW two-day course builds on EKG transect mechanics training by adding the final step for ecological profitability,… answering the question: "What is really going on here, and what do I do?" Following a brief review of site layout, training will focus on recording and understanding ecological function and will highlight restorative or preemptive management techniques. Time will be devoted to simple plant/organism inventories, ecosystem process indicators, grazing and precipitation tracking, and forage production. Using the Land EKG Field Matrix, participants will learn to rapidly quantify, depict, and report land function, a must for profit driven managers or those dealing with public lands or grazing leases. Participants will leave this course confident in their abilities to read EKG transects, document/graph findings, and utilize EKG DataStore.
---
EKG DataStore
This one-day workshop is for landowners and managers wanting personal instruction in using EKG DataStore, our unique on-line database for land monitoring data. Using their own records, participants will spend the day on computers walking through the process of data and photo entry, while becoming comfortable with the simple applications of DataStore analysis and reporting capabilities. Share specific management strategies based on monitoring feedback in a small group setting.
---
EKG Field Refresher
Those who have already been through both 2-day EKG Monitoring Workshops or the 3-day Monitoring Intensive workshop but need to brush up on their skills – they are invited to attend an EKG Blink or EKG Pro workshop for half price.
Cups are hard plastic shells with an oval or elongated shape and may or may not include ventilation holes. The cup fits inside a sling or athletic supporter. In the Kindle ebook, Your Inner Critic, you discover how to turn your inner critic into a weight loss tool instead of being trapped by its negative voice. When you read this book, you gain an innovative, freedom producing approach that emerged from years of work with hundreds of coaching clients who were
Cheap Jordans
facing the
Cheap Oakleys
same challenges you struggling with. Lindbergh couldn't even get out of the cockpit before an estimated crowd of over 100,000 Frenchmen stormed his landing site, grabbed him and like a human umbrella
Cheap Jordans Sale
. Maybe if we could all take a cross Atlantic trip in the steamy pits of an overcrowded, rat and TB infested ship, we'd get a better understanding of Lindy fever.. Charles Woodson picked off a Peyton Manning pass for the first time in his career. Then he did it again. Now push your
cheap jerseys
lips outward, almost as if you were trying to kiss someone. Experiment until you can get a single, clear note. Most of these shows are aired on CBS while some of them it licenses to other networks. Given the popularity of CBS's shows on television, especially in the desired 18 49 demographics, the company has been aggressive in leveraging them outside the traditional television and has struck several licensing deals with streaming providers such as Amazon Prime (NASDAQ:AMZN), Hulu, Starz (NASDAQ:STRZA) and Netflix.. The Electronic Fund Transfer Act, which regulates debit card use, is a bit more convoluted. You could be liable for only $50 if you notify your financial institution within two days of realizing that your card has been lost or stolen. Even the great Manning, however, wasn't a lock for the
wholesale nfl jerseys
No. 1 pick like Luck is in 2012. "If you look at Dick and Paul and myself, we all look different and act different, but what made us so great is we got along so well off the air," Simms said. "The comforting factor about this is that I know Greg pretty well and I am confident we will work well together.". I a freak, Leaf said with a laugh. Mean, it great. San Andreas also stars Carla Gugino, Paul Giamatti, Ioan Gruffudd and The Good Wife's Archie Panjabi. Among the illustrious cast, however, it's a cameo ing Kylie Minogue who most excites him. ET Dec. 26, 2016PITTSBURGH (AP) Ben Roethlisberger shook off a pair of interceptions to throw two late touchdowns, including a 4 yard strike to Antonio Brown with 9 seconds remaining to lift the Steelers to a 31 27 victory over the Baltimore Ravens on Sunday night.