The pictures below show the improvement of a landscape in one year's time after we intentionally applied heavy animal impact to thin the sage and stimulate the grass.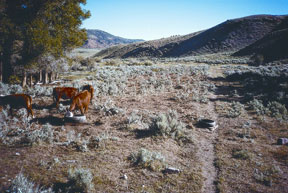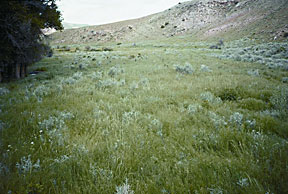 ---
Consulting Services
Resource, Grazing, and Management Planning

Customized Ranch Monitoring Programs

Riparian Habitat Management Services

Profit Strategies

Weed Management Tactics

Advanced Fencing Designs and Systems
Our consulting services are based on 25 years of hands-on ranching experiences, as well as accredited training, university research and private courses in agricultural business and land resources. We have assisted in a variety of management situations across the western states and Canada. Discussing your individual situation, we will work closely with you and your team to create and implement profitable land management strategies.
Customized Ranch Monitoring
North American land stewards are learning the importance of monitoring their land, but some haven't developed the skills and/or set aside the time to complete this process on their own. Land EKG™ is ready and well equipped to assist with these kind of needs. Our knowledgeable staff has helped to develop (and maintain) numerous monitoring programs for land managers. Many times we establish the program and land owners then follow the simple annual visitation methods. Give us a call for more details.
Grazing Planning
The simple keys of grazing management are: Stimulate all plants with grazing Keep overgrazing from occurring Allow adequate recovery periods following grazing Leave enough thatch (litter aftermath) back for soil cover Complications can occur when multiple vegetation, growing environments, and grazing herds are used. We evaluate the situation and present solutions using several innovative management tools, identifying key pasture needs in balance with management goals and grazing demands.
Weed and Drought Management
Managing for weeds and drought are issues most landowners face. Land EKG™, Inc. can help managers establish "best management" strategies most suited for their environment and enterprises. To read more, download the Drought Management PDF

.
Enterprise Analysis / Profit Strategies
Ranch enterprises must be economically and financially sound. The potential to improve these efficiencies is often times hidden for those "stuck in the forest". Our extensive ranching experience helps managers objectively flesh out which enterprises are keepers and which need to be adjusted. We can also teach you how to apply management tools to create better forage production and improve land health for diversified profitability.