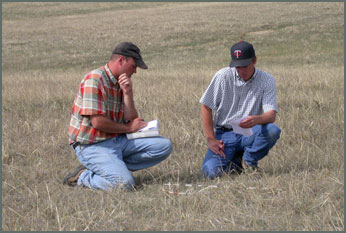 The BLINK Concept
If you haven't picked up the book Blink by Malcolm Gladwell, it is an interesting read. This book discusses the slick way that our brains make flash decisions in the first few seconds when presented with a problem. Gladwell describes this quick response as thin-slicing: unconsciously "sifting through the situation in front of us, throwing out all that is irrelevant while we zero in on what really matters." He makes the point that our unconscious does this very well, and often delivers a better answer than more deliberate ways of thinking.
In science, we are deliberate – gathering as much information as humanly possible to reach 99% certainty. But for land monitoring, is this really necessary? Do we need ALL of the information to make management decisions? Could the concept of thin-slicing work for people on the land who have limited time and resources? ABSOLUTELY!!! The book Blink has inspired us at Land EKG to work toward thin-slicing the whole field data process and focus on getting 80% of the answer with 20% of the effort.
---
What Thick Slice to Thin Slice???
In the past, we held 3-day workshops that focused on what we best understood were the key aspects of land monitoring. However, we noticed that although participants were very motivated and excited to implement the newly-learned skills back at their ranch, only 15-20% actually did. As we were scratching our heads thinking "what's the problem?", we realized that although we had streamlined a whole system, there was still too much being covered in the workshop. It doesn't matter if someone can recite key ecological processes or identify 20 of their plants or give an accurate soil erosion score if they aren't comfortable with where the foundation lies. And knowing where to and how to choose and set up the sites is the foundational key to it all.
20% of the Effort
During 2009, intent to increase participant monitoring, we implemented a whole new training workshop we call EKG Blink. We cut it back to 2 days, focused on site choice, orientation & set-up, key photo sequencing, surface cover, forage production, and grazing records. Now, 12 months later, follow-up with participants has revealed that 75% of attendees have monitoring sites set up on their own place, with data collected! In fact one couple has completed 42 sites and are still going strong? Wow!
80% of the Answer
So with the shortened training, and thin slicing to track just the most key aspects for long-term monitoring we have more folks out there with the willingness and confidence to monitor, un-assisted, on their own place. Couple the photo sequence comparisons with some precipitation data, grazing records, production, and surface cover figures, and you have about 80% of the picture in front of you. We've found that EKG Blink is easily being accepted by almost all government agencies – especially when participants record their data using EKG DataStore. Furthermore the time and money spent on monitoring can quickly pay for itself when it is used to fulfill CSP requirements, make important grazing management decisions, and complete lease and contract agreements.
---
Going Beyond
What about the remaining 20% of the answer? For those folks who really
want
to know what is happening on their lands, or really
need
to know because they are at possible risk of losing their grazing leases or who have complicated grazing systems, the EKG Blink workshop is easily followed with the EKGpro workshop, which teaches "everything else". EKG pro focuses on not just seeing if things are getting better or worse, but identifies – What things? At what rate? How much better? How much worse? And why? It is comprehensive and more quantitative. It also focuses on: plant identification, species composition, living organisms, goal plants, undesirable plants, and produces the signature EKG Eco-Graph.
---
Making it Happen
You are the one on the ground, day in and day out, which makes you the most qualified person out of everyone to monitor your lands. With EKG Blink, any land steward who cares and wants to make good grazing and management decisions – either for themselves or to fulfill contract requirements – has the time and the smarts to do this monitoring program. At the end of the course you will know how to consistently and objectively monitor rangelands at a level accepted by most land agencies.
We travel the country (and sometimes out of the country) to bring these workshops to you. But we need to know where you are! All we need is a few committed individuals in a local area who have interest – individuals, grazing associations, stockgrowers, conservation districts, etc. Please let us know if you are interested; we are already scheduling schools for the 2011 season. Contact information is below.
---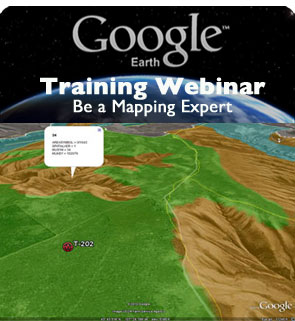 Using Google Earth – Be a Mapping Expert
How current and accurate are your ranch maps? We're not talking the wall sized maps that you have to carry around like an art portfolio – we mean the useful kind on normal paper, where you can use the computer to draw in possible new fencelines, water points, monitoring sites, look at soils, calculate acreage, and even create a grazing plan.
How familiar are you with using Google Earth? It is a FREE program you can download from here

and it can provide tremendous value to land managers. It is the most simple to use GIS program available…and we love it.
But, from the folks we've talked to, many don't know how to use it for ranch planning purposes and want to learn how. So, to help with this, we would like to host a 1-2 hrs training program (using a webinar format). You sit at home with a cup of coffee and attend a class over the computer. Is anyone interested? If you are, please click here.


---
IN OUR NEXT LAND EKG E-NEWSLETTER ISSUE:
The EKG? Monitoring Pyramid
If you have any suggestions for future issues, have feedback, or want more information please contact us at:

(307) 366-2445 or contact us by email.



If you would like to be added to our mailing list, please click here. If you are already registered, but are not receiving the Land EKG? E-Newsletter, please contact us and let us know you would like to get the newsletter.